PLAY ON GEARHEX MC

Click the server IP to copy it to your clipboard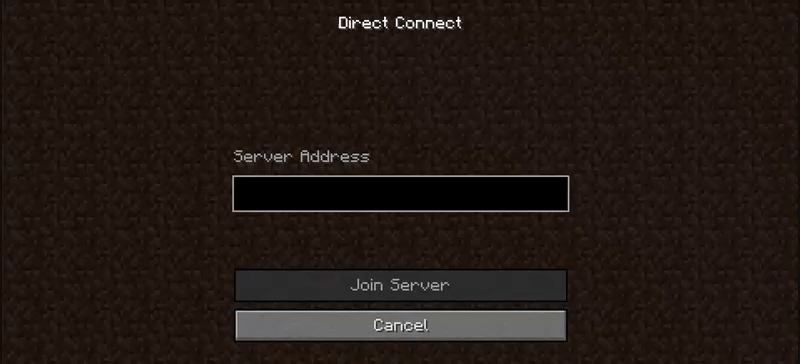 It's easy to jump on and get playing!
❶ Open up your Minecraft: Java Edition Launcher
❷ Login now, press Play and find your way to Multiplayer
❸ Click on Add Server or Direct Connect button
❹ Enter the IP "mc.gearhex.net" into the Server Address box
❺ Hit "Done" and you're ready to play!
ABOUT AND INFO
Gearhex MC is a unique, small and friendly 24/7 community Minecraft: Java Edition server network managed and hosted by Gearhex, combining both Vanilla and Modded gamemodes , featuring great plugins and features to make your experience the best it could possibly be. Our server has a range of game modes to choose from. From Semi-Vanilla Survival with an expansive open-world adventure RPG to spacious creative plots to express your imagination, even fast-paced PvP games and Modded Minecraft worlds, There's bound to be something here you and your friends will enjoy!

We strive to be your Minecraft home, with a welcoming and friendly community and staff team, 24/7 uptime and an array of different gamemodes and servers compatible with multiple different versions.

When you first log in to our server, use the NAVIGATOR compass on your hotbar or /nav to choose which gamemode you want to play. Be sure to make yourself aware of the /rules before you play!

Our dedicated staff team works hard to ensure that Gearhex MC is the best place to play – ensuring a safe, smooth, welcoming experience for all players. The Admins work hard and do their very best to ensure all players have the greatest user experience ever! We hope that you can find a home here at Gearhex MC. We are always looking for mature, well mannered, and active players to join our staff team.

Our network consists of multiple servers. Powered by a dedicated machine featuring plenty of RAM, SSD storage, and a powerful server-grade processor for the best experience.


Looking for a fun and quiet place to play with your friends? What are you waiting for? Become a vital part of our community today! Join us!
Connect now: mc.gearhex.net – Gearhex MC is the server to be!

Key Features:
– 24/7 uptime
– Range of gamemodes to explore
– Friendly and helpful staff team
– Awesome welcoming community
– Powerful servers for a lag-free expierence
– Connect with any version (recommended 1.12+)

6-15 daily players!
Over 2367 unique players and counting…

* unique players refers to how many players have joined since the beginning of time
SERVERS AND GAMEMODES
Survival Adventure

Welcome to Survival Adventure – Vanilla Economy SMP, jobs, roleplay, quests and more!
A semi-vanilla economy survival multiplayer, roleplay server complete with shops, warps, homes, anti grief, optional PVP, kits, and more!



Key Features:
⦁ Vanilla survival gameplay
⦁ An up-to-date Minecraft experience – we aim to update the as soon as server software is updated, stable or available
⦁ Multi-version support
⦁ Spacious overworld that we call "The Outlands" that expands when needed
⦁ Spacious nether and end worlds that expand when needed
⦁ Player-owned towns and cities
⦁ In-game economy (/balance)
⦁ Server-owned spawn shops at Stockhart (/shops)
⦁ Player-owned chest shops within The Outlands (/shops)
⦁ Player teleportation (/tpa)
⦁ Random teleportation (/rtp)
⦁ Player homes (/sethome /home)
⦁ Player warps (/pwarp)
⦁ Custom enchants (/shops)
⦁ Antigrief and landclaim (/claim)
⦁ Optional toggleable pvp (/pvp)
⦁ Epic kits for survival gameplay (/kits)
⦁ Vote rewards (/vote)
⦁ Donation perks (/donate)
⦁ Mulitplayer events (/events)
⦁ [Coming Soon] A vast, expansive open-world rpg adventure world with quests, jobs, propeties, custom mobs, classes, and more! Details on this will be revealed soon.

Creative Freebuild

Welcome to Creative Freebuild – Creative plots, unlimited blocks, WorldEdit and more!
A creative plot server where your imagination can run free! Spacious plots, unlimited blocks, and powerful cutting-edge building tools and plugins.


Key Features:
⦁ Spacious Creative plots to build in
⦁ Friends build together – trust your friends to build on your plot with you
⦁ The abilty to merge your plots together to make a large super-plot – or merge with a friend's plot
⦁ WorldEdit – FREE access to WorldEdit inside your plot to copy, paste and terraform
⦁ Multi-version support
⦁ Heads Database – choose from over 20k custom heads to use for creative builds
⦁ BannerMaker – easily create banner designs with the Banner Maker GUI
⦁ ArmorStand Editor – spawn armortands and customise its properties easily
⦁ Plot Time and Weather – easily set the time and weather inside your plot as your choice
⦁ NightVision – toggle nightvision to see in the dark
⦁ NoClip mode – switch to NoClip mode to be able to NoClip through builds
⦁ GameMode changer – switch to survival mode or creative mode in your plot
⦁ Name Tag Customiser – create coloured nametags for mobs
⦁ Donation perks (/donate)
⦁ Multiplayer events (/events)
⦁ and more to come!

Modded Forge

Modded Minecraft worlds powered by the Forge modloader. Requires the mods instealled on your game to connect. See how with the instructions on the the modpacks CurseForge description. To see which Modpacks we are currently hosting on our server, use /getmods in game.
Battle Games

Welcome to Battle Games – Fast-paced cometitve PvP combat gamemodes.
Our take on popular battle games such as BedWars, KitPvP and more – fast-paced, competitve PvP action.


Available Games:
⦁ BedWars – BedWars is a game that can lead you to victory or defeat! You must protect your bed, whilst trying to kill the enemies and destroy their bed. Without the bed, you or your team cannot respawn! Last team standing wins.
⦁ KitPvP – In KitPvP, players must choose from a category of kits, each with their own unique items and abilities and fight to the death within an arena. Once dead the player will respawn and repeat the process.
⦁ SkyPvP – SkyPvP is PvP but in the sky, mine resorces at the generators to be used to upgrade your weapons and tools in the shops and level up for a stronger defense against other players. Parkour from platform to platform. Your aim is to have the best gear and stay alive.
⦁ SkyWars – In SkyWars, each player starts off on a separate island and tries to battle each other or the other teams. The main goal is to be the last person or team alive to win. In the middle, larger island there is better loot to grab.

Select which gamemode/server you would like to play from the NAVIGATOR at our Hub!